In Iran, we have 3 operators that provide communication services.
Hamrahe Aval (IR-MCI) [

Turquoise

]
MTN Irancell [

Yellow

]
Rightel [

Violet

]
I recommend you use Irancell because it's cheaper, easier to use and also have good prices for Prepaid Sim Cards.
Official places to buying your SIM card
Imam Khomeini International airport –

Open 24/7

Imam Khomeini Metro Station (inside the city) – Open Sat to Tue, 8 AM to 4 PM [Location]
Parsian Evin Hotel (inside the city) – Open every day 8 AM to 9 PM [Location]
Please don't buy any Simcard without registration. Unofficial stores call them ready to use a sim card.
Do I need to bring my passport?
Yes.
To use this SIM card you need to register first. Registration can be done by a passport ID number.
you will have to wait between 24 and 48 hours (some times 6 hours) to get the card activated.
Prices and Packs ( Nov 2017)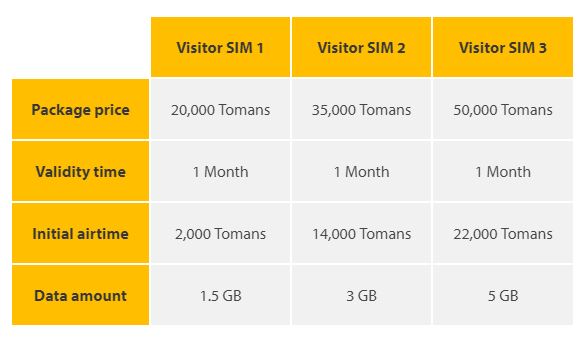 The internet has good speed to use Whatsapp, Telegram or Instagram. And it's easy to have a video call via Whatsapp or Skype. Irancell costumer service number is 700 from Irancell operator.
Also, you can check out the experience of Jordi