It's one of the another items you can just find in Iran! Official currency of Iran is Rial (IRR -﷼) but people use Toman too. So:
De jure: Rial
De facto: Toman
It's mean numbers of Iran's money show you Rial. Different of Rial and Toman is just on one 0 number. To find the Tomans of price or rials, need add or remove one zero at the end of that.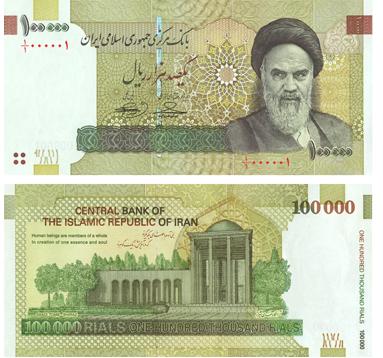 At this photo you see 100,000 IRR = 10,000 Tomans (Dah Hezar Tomans in Persian)
---
I think is good you learn Persian numbers.
some of them are very same to English
1 = ۱ (same)
2 = ۲ (same)
3 = ۳ (same)
4 = ۴ (different)
5 = ۵ (different)
6 = ۶ (different)
7 = ۷ (same)
8 = ۸ (different)
9 = ۹ (same)
0 = ۰ (same)
More About Iranian currency at XE.com